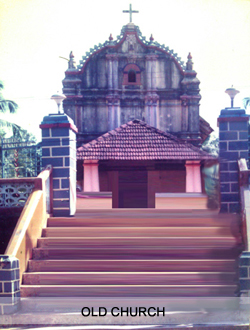 The History of KADESH MAR GEEVARGHESE SAHADA CHURCH
In the age of Christian life that was going smooth and vigorously with belief and devotion, some believers from Maramangalam who were the parish members of Kothamangalam Mar Thoma Cheriyapalli, and who were blessed by the foot touches of Yeldho Mar Basalious Bava and the age old Mathamariam Holy Church, and who felt it so difficult to travel so long to participate in the prayer and worship, wished to have a Church in their own locality. As a result, on Kollavarsham 1105 Thulam 29th (A.D.1929 November 14), then Malankara Metropolitan and Angamali Kochi Bhadharsanam ruler Paulose Mar Athanasious gave permission, and about 60 families together built the Holy Church on Makaram 15 1007 (AD 1932 January 28) in the land donated by Pallath family. Chettiyamkudy Thomas Kathanar devoted the first Holy Mass there.
The most important Thorns established are in the name of Ghevarghese Sahudha, northern Thorns is in the name of the Holy Mary and the Southern Thorns is in the name of St Tomas.
The first built Church was small and not comfortable. So in 1945 on 29 April the general body decided to reinforce the basement of entrance and to increase the height of the roof. So everyone worked hard together and the Church became stronger and comfortably beautiful.
The Church administration was going smoothly under the registered Bi-law No 29/3 on 1932 dated October 11. Amendments, as per ages, were done on 10/11/94(108/94) and with permission from the parish metropolit, it was registered in Kothamangalam Sub registrar office as No 408. As per above Bi-law the administration is going on.
Due to the lack of amenities and place, the first Church building was decided to be reconstructed. Primary activities were started under the leadership of respected vicar Kassisa Jose Mathew Thachethukudy in 1994 and under the leadership of respected Kassisa Baiju Chandy Thadikkoottil reconstructions was over, and in 1999 on April 21st Bhadrasan metropolitan Thomas Mar Devansious, metropolit Mar Osthathious and eastern evangelical president Ghevarghese Polikarpose together did the blessing ceremony.
January 28 on feast day of 'Kallitta Perunnal' (Stone laying day feast), His Excellency Catholic Baselious Thomas 1st Bava, in the presence of His Excellency Banyamin Mar Osthathious, did the Holy MOROON.
The Church, always loyal and obedient to Holy ANTHOKYA THRONE, is always staying as a refuge and fort to all believers.